December 17th, 2018 → 4:16 pm @ rldonovan
I killed a woman in each of my first two books. They were intimate and personal murders and the details revealed themselves easily.
No women were killed in my third book, only men. I won't mention the number (you know, spoiler alert), but suffice it to say that there has been nothing personal and/or intimate about how I have murdered men.
It's not something I'd ever thought about before answering this question, but the facts are undeniable. I kill women more elegantly than I kill men.
I've read about how men tend to murder in a more gruesome and personal way and women prefer a cleaner, poison-based crime. In examining my work, I would have to say that I've murdered women in a more gruesome, close up manner (none of which have not been graphically depicted because they are cozy mysteries) and the men in a more distant method with less explicit details that are abruptly glossed over.
Why that is remains unclear to me, although as I unpeel the onion the women have been murdered for bad behavior in personal relationships, that caught up with them. My men, on the other hand, have been murdered for acts far more public than personal. This leads me to believe that I am may not be comfortable addressing men's private feelings and related actions, so I build a layer of separation between their feelings and the motives for their murders.
Perhaps, it's merely because my third book is my first experience with murdering a friend. Could it be as simple as that? Murdering a friend was definitely more difficult than murdering those hateful, shrewish women. It was a genuine challenge to find the right balance between expressions of grief and sadness without completely killing the humor.
When I review the question about the difficulties of writing for the opposite sex I have more questions than answers. Who would have guessed that with all my focus on writing mysteries, I am the real mystery?
October 8th, 2018 → 8:05 pm @ rldonovan
Writer Spectacle
Featured Writers
n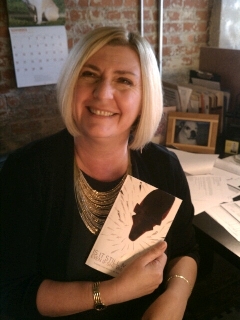 What kind of content do you mostly write?
humorous cozy mysteries
How long have you been writing?
novels – 8 years
How many hours do you dedicate to writing per week on average?
8 hours on Saturday and Sunday – when I'm writing a novel
Do you have any formal education, mentoring, or experience related to writing?
I was an English major and took creative writing classes
In one sentence, what motivates you to write?
I have a huge amount of fun when I'm writing comedy.
Do you have any funny or unusual writing habits?
When I was working with a publisher and I would get the manuscript back all marked up, I would have a have a one-sided dialogue as I read through manuscript. If I disagreed with the comment i would become indignant and sometimes yell my objections, and when I felt the comment was an improvement on my work I would complimemt the manuscript graciously. I often wondered how entertaining a video of me reading my manuscript comments would be.
Pick an excerpt from any of your writing that you're really proud of
"You mean Donny was killed because he was in the wrong place at the wrong time? A victim of circumstance?"
"That's about it."
In all the years I knew Donny, through all his bark and bluster, I knew the one thing he would hate about this was the fact that he was insignificant in his own death.
What advice, if any, would you give to a fellow writer who has just been rejected by several large publishers and told he or she has zero chance to make it as a writer?
If you are certain that the work has merit there are other avenues than the large publishers. You owe it to yourself to investigate another way to get your work out there.
What is the most important tip that you can offer other writers?
Manage your expectations. If your work is great and the feedback you get is consistantly positive, that still doesn't mean you'll ever be Janet Evanovich. You have to understand and be okay with that. Even if you don't make millions from your work, there are moments that will make it one of the top 5 (or even 3) experiences of your life.
What would you say are some common traps that aspiring writers should avoid?
That the work is so good they don't need an editor or a proofreader.
That acclaim will come to you and you won't have to work your butt off for everything you get.
That you HAVE to take every piece of advice from your editor.
Have you had any adversity or challenges surrounding your writing career? If yes, what?
I wrote the first half of my third book while I was getting ready to edit my second book. When I went back to it after two years, it was just awful. I honestly didn't think it could be salvaged. I spent some time thinking and came up with an ending that wouldn't have been possible two years earlier. Once I had that ending, I was able to go back and edit the first half. Then I absolutely loved it and finished the second half of the book with relative ease. I never expected to like that book – and I love it. It would have been extremely defeating to have had to abandon all that work.
A direct link to your most proud of written work
https://www.amazon.com/s/ref=nb_sb_ss_i_1_13?url=search-alias%3Dstripbooks&field-keywords=donna+leigh+mysteries&sprefix=Donna+leigh+m%2Caps%2C159&crid=2AVA1BUQ9T752
Amazon link to: Donna Leigh Mysteries
Your website or blog
www.rldonovan.com
If a new writer asked you what you thought was needed to become an internationally famous and successful writer, what you would say or recommend them to do?
Have someone you know well get murdered, and then write a book about it. I have found that there is one absolute besides death (no pun intended) and taxes, if you are personally involved in a murder and you write a book about it – you WILL get a book and movie offers – no matter how badly you write. The more gory the murder the more celebrated the fame.
You are tasked with cleaning up and organizing a dirty, junky 10,000 sq. ft. mansion within 24 hours. The owner of the mansion hasn't made an attempt to straighten the place out in 3 years. You are given $3000. What would you do to get it as clean and organized as possible for its happy owner?
I would find an OCD therapy group and invite them to a party at the mansion. I would use the money to for food and party favors, you know, Swiffers and windex. All of the party games would revolve around getting an area the cleanest and most organized. Bonus points would earn them extra areas to clean.
Anything else you'd like to say?
I'm kind of a ham and I like to make people laugh. That said, my mysteries hold together. I don't believe that I can phone in the clues and leave red herrings all over just because my focus is humor. I also don't believe that smart sleuths will deliberately paint themselves into a dangerous corner – like almost every brilliant, young and gorgeous sleuth tends to do (sure, I'll meet the heavily breathing, disguised voice creep that calls and invites me to a dark alley at midnight). My sleuth is smart but imperfect, menopausal but cool and she's a whole lot more relatable than a lot of today's amateur sleuths because she doesn't take herself too seriously.
June 6th, 2012 → 9:13 pm @ rldonovan
Last night I had the distinct honor of kicking off the Millard Branch's Authors Series. Attendees were wonderful and supportive! They asked some excellent questions and gave me some feedback that made it difficult to fit my head through the door as I exited the building! Every "talk" should be so much fun – for me!
I also appreciate being able to trot out an excerpt from the second book in the Donna Leigh Mysteries series, I Didn't Kill Her, But That May Have Been Short Sighted! It really helped to be able to share my plot and characters with a new audience, and hearing the laughter was music to my ears!
I want to thank all of the wonderful folks at the Millard Branch for being so welcoming and supportive!
I recently had an acquaintance laughingly ask me if I really felt like a "celebrity." And to his surprise, I was able to respond that there are actually a few people who treat me as though I'm a celebrity. I count the great folks at the Millard Branch and their wonderful audience as some of those few!